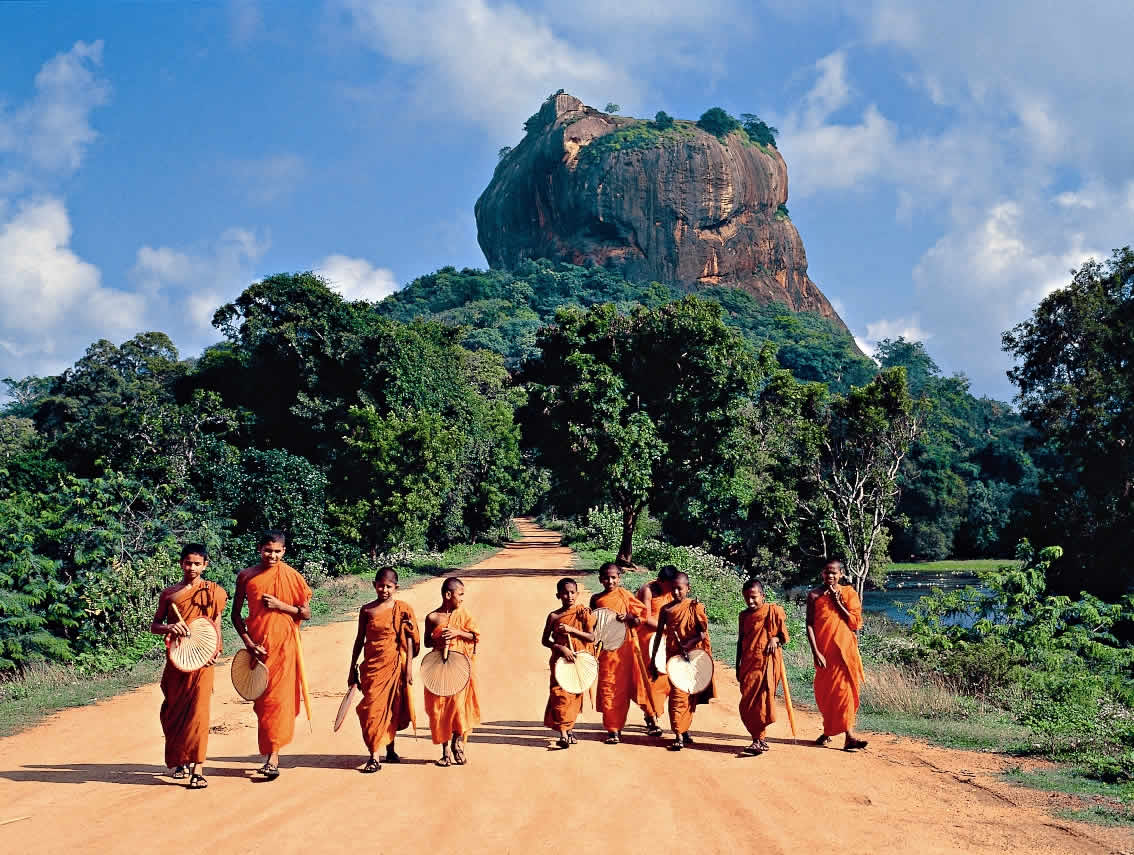 SRI LANKA TOUR PACKAGE

WITH

FLIGHT

15 Days

Special B2B Group Tour for Travel Agents
Departures from Amsterdam, Brussels, Paris, Frankfurt, Dusseldorf or Zurich

Our Sri Lanka Tour Package with Flight offers the perfect opportunity to explore the jewel of the Indian Ocean all-inclusive. Sri Lanka has it all – endless white sandy beaches, UNESCO World Heritage sites, wildlife, religious iconography, and ancient cultures.

DISCOUNTED SINGLE/COUPLE PACKAGES ON REQUEST!


HIGHLIGHTS: *CLASS HOTELS -FULL BORD MEAL PLAN – EXPERIENCED GUIDE – ENTRY FEES – WILDLIFE SAFARI – SCENIC TRAIN RIDE – UNESCO HERITAGE SITES – SURF/SNORKELING BEACHES – DOLPHIN/WHALE WATCHING

FULLY CUSTOMIZABLE

for more details and all available options contact us:
Mobile/WhatsApp/Viber/Imo : 0094 773 866 315
b2b@sri-holidays.com
Sri Lanka Tour Package with Flight Itinerary
DAY 1 


Flight to Sri Lanka from Airport of your Choice
Departures from Amsterdam, Brussels, Paris, Frankfurt, Dusseldorf or Zurich
DAY 2 


Arrival in Sri Lanka
Arrival at the Bandaranayke International Airport and Transfer to your hotel in Negombo. Depending on your arrival time, you can embark on a Negombo City Tour and/or a boat safari on the Historic Dutch / Hamilton Canal. Flowing through the heart of the city, Dutch Canal once acted as an important transportation and trading route. Today, the long canal still allows transportation, but mostly for visitors looking for a unique way to explore the city. Negombo Beach is also a great location to acclimatize after your flight to Sri Lanka.
Overnight at the Hotel Goldi Sands Beach Hotel
DAY 3 


Negombo – Anuradhapura
After breakfast, we head towards Anuradhapura and make a stop in the ancient monastic city of Mihintale. The Sacred Rock of
Mihintale is the location where Buddhism is said to have been introduced to the country. The climb to the top consists of
1840 granite steps and the mountain is dotted with temples, Buddha statues, and monks' quarters. We are rewarded with a breathtaking view! You spend the night in a resort surrounded by old ruins and temples.
Overnight at the Gamodh Citadel Resort
DAY 4 


Anuradhapura – Sigiriya
Today we explore the ancient city of Anuradhapura, dating back from the 3rd century B.C to the 10th century A.D. You will visit the Sri Maha Bodhi (the oldest tree in the world with a written history and it is a sapling from the original tree under which Buddha got enlightened), the Brazen Palace, the Ruwanweliseya Dagoba (the biggest dagoba in Sri Lanka), the Thuparama Dagoba (oldest dagoba), the Lankarama Dagoba, the Elephant Pond, the Abhayagiriya Monastery Complex, the world-famous Samadhi Buddha Statue, and the Isurumuniya Temple (Stone carving of the Sri Lankan Romeo & Juliet).
Overnight at the Hotel Kassapa Lions Rock
DAY 5


Sigiriya – Polonnaruwa – Sigiriya
Sightseeing of the ancient city of Polonnaruwa (10th-12th century A.D). You will visit the modern museum, the Parakrama Samudra (gigantic reservoir made by king Parakrama the Great), Statue of King Parakrama, the Library Shrine, Palace of King
Parakrama, the Kumara Pokuna (pond used by the royal family with the water flowing system), the Shiva temple, the Thuparama shrine room with its glittering statues, the Alahana Monastery Complex, the Gal Vihare (a masterpiece of stone carving), the Lotus Pond and a traditional wood carving factory. After your afternoon tea, you will proceed to Sigiriya.
Overnight Kassapa Lion Rock Hotel
DAY 6


Sigiriya Rock Fortress – Matale – Kandy
Perched on a slab of rock that juts dramatically over the forests of central Sri Lanka, Sigiriya is as imposing a sight now as it must have been when it was first built by a fierce king in the fifth century A.D. Meaning "lion's rock," Sigiriya (designated a UNESCO World Heritage site in 1982) is accessed by way of passageways cut into the rock face between a monumental pair of lion paws. Make sure to see the exquisite wall paintings that have become some of the most prized objects in Sri Lanka's artistic heritage. A total of 21 surviving frescoes may depict apsaras, celestial singers and dancers.
The fortress was later swallowed by the forest, and only familiar to local villagers. Outsiders used knowledge of its past, preserved in Buddhist texts, to search for the ancient site. British historians rediscovered its astonishing buildings and frescoes in the 19th century.
On the way to Kandy, visit the Spice Garden in Matale. Since ancient trading days, Sri Lanka is world-renowned for its Quality Spices. In the 16th century Ceylon, as it was then known, was discovered by the Portuguese who soon began trading in cinnamon and other spices. The Dutch and British followed, bringing with them their own history and influences, forming a strong Western presence that created a history of food expressed with spices that can be tasted in the dishes today. Spices are an essential element of the cuisine of Sri Lanka and the Ayurvedic tradition and a visit to a garden that specializes in the cultivation of these substances and an excellent way to purposes of new uses for certain ingredients that perhaps thought they knew well. Find cinnamon, cloves, nutmeg, vanilla, cardamom, and black pepper, to name a few. Visitors can buy the products in their natural state or in the form of oils and potions that are used by Ayurvedic medicine.
Proceed to Kandy.
Kandy is Sri Lanka's second largest city after Colombo, brimming with a fascinating history, rich culture, spectacular beauty, and old-world charm. Lush forests, sprawling mountain ranges, the meandering Kandy Lake, known as the Sea of Milk, and an array of distinguished colonial buildings and magnificent Kandyan-inspired architecture complete this Medieval City. This beautiful, laidback capital is only 72 miles (115 kilometers) inland yet boasts exceptional cultural and historical attractions, set amidst forested hills. Known as a pilgrimage destination for the Temple of the Tooth Relic (a sacred tooth of the Buddha), a listed UNESCO World Heritage Site, Kandy is a sacred city, due to the importance and spiritual significance of this temple. It is also known for the vibrantly festive Kandy Esala Perahera, also known as the Festival of the Tooth, an important 10-day religious celebration each August. Lying at an altitude of 1 640 feet (500 meters) above sea level and surrounded by the Knuckles and Hunnasgiriya Mountain Ranges, the temperatures around Kandy are slightly cooler and conditions more pleasant than in the lowlands. An important and established Buddhist site, Kandy was formerly known as the city of Senkadagalapura. It served as the last capital of the Sinhalese kingdom before falling to the British in 1815.
Overnight Topaz Hotel (Deluxe Room B&B), Kandy
DAY 7


Royal Botanic Gardens – Hill Country – Nuwara Eliya
After breakfast visit the Royal Botanic Gardens, Kandy. Established in 1816, these gardens are located about 6.5km before Kandy on the side of the Colombo-Kandy Highway. Initially planted with Coffee and Cinnamon, it now includes beautiful Sri Lankan and overseas species. No vehicle is allowed entry to this 147-acre garden. It is bounded on three sides by a loop of the Mahaweli River. The Avenue of Royal Palms, Bamboo-fringed riverside drive, Bat drive, Spice garden, Orchard House, Cactus house, a Glasshouse of anthuriums, begonias, African Violets, and other species, and the giant Javan fig tree on the great lawn attract locals and visitors from overseas. It covers an area of 1600 sqm. Keep your eyes open for an oxen-driven lawn mower.
Afterward, embark on a picturesque drive through Sri Lanka's hill country. En route visit a tea factory and tea plantations.
In the afternoon you will reach Nuwara Eliya (so-called Little England) with its colonial hotels, the racecourse, and golf courses. Nuwara Eliya or City of Light is the tea capital of Sri Lanka at an altitude of 1889 m and is the most visited hill station on the island. Nuwara Eliya was found by a group of British officers during the earlier part of the 19th century, who as the story goes, had gotten lost while elephant hunting. The British governor at the time, Sir Edward Barnes, was told about this little
town and subsequently decided to take residence there, soon creating a health resort, which soon became internationally renowned.
Nuwara Eliya is surrounded by a seemingly endless array of tea plantations populated by tea pickers who are almost exclusively Indian Tamils, who are distinct from the Ceylonese Tamils who live in the Northeast of the country.
Overnight at the Hotel Araliya Red
DAY 8


Scenic Train Ride to Ella
The train journey from Nuwara Eliya to Ella is the most beautiful train ride in Sri Lanka, if not in the world! Board the train and experience breathtaking views of lush green tea plantations, mountains, viaducts, valleys, and dense jungle. What's more, it's the perfect way to experience Sri Lankan life. Meet smiling locals on the train, wave to the running children along the tracks, and eat the spicy snacks sold by vendors who board at each stop. The route takes you through tea plantations, jungles, and mountains. As the journey goes on, you move into the lush green highlands, dotted with tea plantations, beautiful hilltop villages, and waterfalls. The train was brought to life in the mid-1800s when Sri Lanka was under British colonial rule. During this time, it was used as a train to transport tea from the plantations to Colombo, where it would then be exported internationally.
Ella is a small village located among the peaks of Sri Lanka's central highlands. This sleepy village is nestled in a valley peering straight through the Ella Gap to the plain nearly 1000m below and across to the coastline. Apart from the mesmerizing natural views, ELLA is surrounded by hilly countryside perfect for walks; through tea plantations, waterfalls, ancient temples, and artifacts. This hidden sanctuary with the perfect climate is probably one of the best-kept secrets of the country and is easily accessible from the comfort of your hotel in Ella.
Overnight at Morning Dew Hotel (Deluxe Room B&B), Ella
DAY 9


Ella
After a hearty breakfast, we get ready to climb Little Adam's Peak. This mountain can also be climbed by less experienced hikers. In about 45 minutes you are at the top and you are rewarded with a beautiful view.
In addition, we walk to the Nine Arch Bridge. It is one of the most iconic bridges in Sri Lanka and one of the best examples of British railway construction when Ceylon was still a colony of the British Empire. In the afternoon you have the option to relax at the hotel or explore the area.
Overnight at Morning Dew Hotel (Deluxe Room B&B), Ella
DAY 10


Ella – Udawalawe
On the way to Udawalawe we make a stop at Ravana waterfall. This waterfall is about 25 m high and flows from an oval-shaped concave rock formation.
The Elephant Transit Home in Udawalawe is a facility in Sri Lanka's Udawalawe National Park that was established in 1995 by the Sri Lanka Department of Wildlife Conservation. The primary goal is to rehabilitate orphaned elephant calves for ultimate release into the wild. We spend the night in glamping tents facing the Rakwana River where we feel the natural oasis with fresh air. With the sound of the water, we fall asleep and we wake up with the sound of the birds.
Overnight at the Athgira River Camping
DAY 11


Sinharaja Rainforest
Today we have the chance to get to know this beautiful and pristine rainforest on foot. The rainforest is known for its ecotourism and beauty. The forest is rich in a great diversity of plants and animals, and specific vegetation that we did not encounter on our journey. We spend the night in our bungalow which is located on the edge of the Sinharaja forest.
Overnight at the Jansen Bungalows
DAY 12


Sinharaja – Mirissa Beach
Located on Sri Lanka's picturesque South Coast, Mirissa still offers the charm of an idyllic fishing village. Enjoy walks along uncrowded beaches, still untouched by mass tourism, and be fascinated by the famous stilt fishing men. Mirissa is more than beach life. Much more. Surrounded by rubber and coconut plantations, ancient temples and spice gardens, natural sanctuaries, and exotic wildlife, Mirissa offers something for everybody.
Surfing, snorkeling, scuba diving or just sunbathing in front of one of the beach pubs.
Mirissa is also an ideal destination for those who wish to catch a rare glimpse of those beautiful and gentle giants of the Ocean. Situated at the southern coast of Sri Lanka from beyond the MIRISSA coast lies the Indian Ocean its vast majesty right up to the Antarctic landmass. It comes as no surprise that these amazing marine mammals migrate through the vast and fertile stretch from December to April during the annual breeding season. Mirissa itself is a quiet and peaceful coastal town boasting unspoiled beaches.
Setting off from Mirissa there is up to 90% opportunity to come across Sperm whales and a pretty good chance of sighting the Blue whale as well. There are believed to be around 26 different species of whales traversing this region and including the well-loved dolphins.
Overnight at the Paradise Beach Club 
DAY 13


Mirissa – Galle Fort – Mirissa
In the morning you will be visiting the Galle Fort. A Unesco World Heritage Site, this historic city is easy to explore on foot, an endlessly exotic old trading port blessed with imposing Dutch-colonial buildings, ancient mosques and churches, grand mansions, and museums. Most travelers are utterly seduced by Galle's ambiance, and it's undoubtedly southern Sri Lanka's one unmissable sight.
Overnight at the Paradise Beach Club
DAY 14


Mirissa Beach
To end our last day in Sri Lanka on a high note, we enjoy the Indian Ocean even further with swimming, optional snorkeling/surfing, or chilling on the beach. Enjoy the vast golden beaches one last time with pole fishermen at sunset. Take long relaxing walks in the fresh sea breeze. Experience the ultimate thrill of wave surfing. Explore the laid-back town with the delicious smell of fresh fish and interact with the friendly locals.
Overnight at the Paradise Beach Club
DAY 15


Mirissa – Airport
We say goodbye to Sri Lanka with wonderful memories of the trip!
END OF SRI LANKA TOUR PACKAGE WITH FLIGHT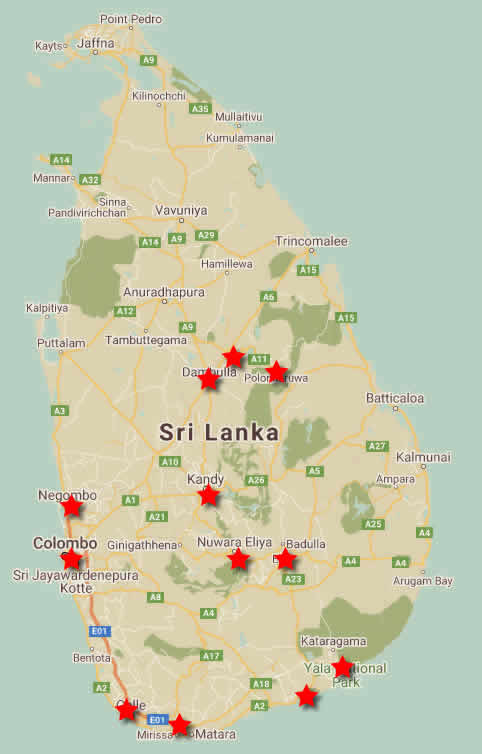 BOOK WITH CONFIDENCE!
We are physically based in Sri Lanka and our 24/7 customer hotline is always available to you. The straightforward Online Reservation System, friendly, multilingual staff and no hidden costs are only some of the benefits you experience when booking your vacation with lanka2book.
Feel free to contact us with any questions you might have.
    
Mobile/WhatsApp : 0094 773 866 315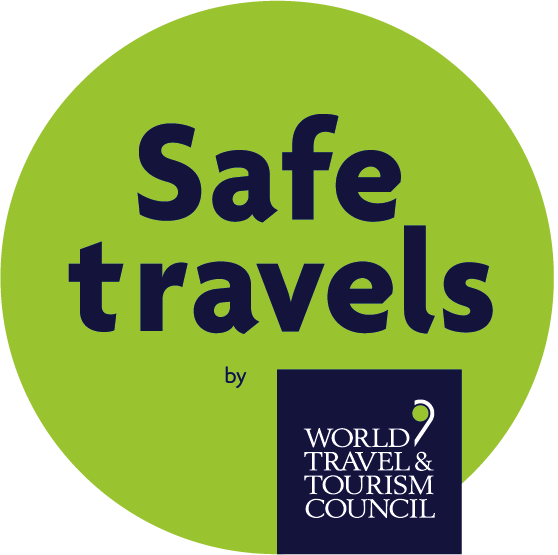 Book Sri Lanka Tour Package with Flight 15 Days
from USD 2.470 pp 
(per person sharing a double room – min. 6 Pax/group)
Mobile/WhatsApp : 0094 773 866 315
b2b@sri-holidays.com
Availability
This Tour Package can be booked all year round
Tour Includes
15 Days Private Sri Lanka Tour
Including Flight (Qatar, Etihad or Emirates
Accommodation with Full Board as mentioned in the itinerary
Train Tickets
Entry Fees
Private transportation
Experienced, English-speaking chauffeur guide
Transport by fully insured a/c vehicle by Sri Lanka Insurance Corporation Ltd
Tour Excludes
Anything not specified in the package inclusions
Meals other than specified
Items of personal nature
Tipping and porterage
our booking terms & conditions can be found here…
Please be advised that most hotels charge a compulsory supplement for Christmas Eve / New Year and on important local or school holidays. If your travel falls within one of these periods, we will inform you accordingly.
We are no automated booking engine! All enquiries and reservations are handled by a real person; a dedicated Sri Lanka specialist who will offer unbiased advice, guide you through the reservation process and assists you during your holiday (whenever needed) as well.