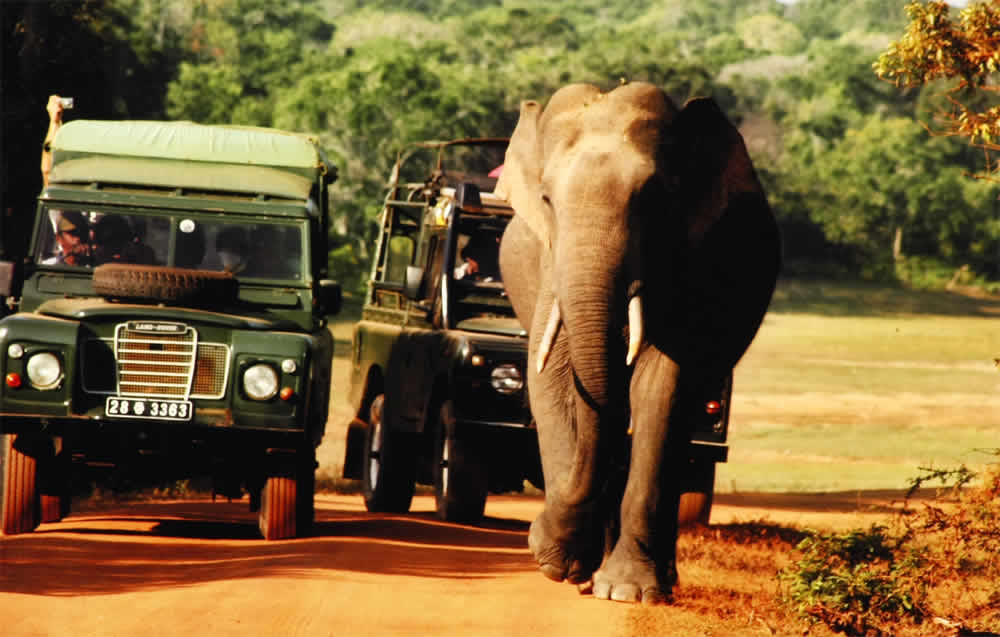 SRI LANKA ADVENTURE AND NATURE TOUR PACKAGE 
14 Days
Private Tour – Fully Customizable – Guaranteed Departure Dates 
Sri Lanka, the emerald green island, is home to a world of unique flora and fauna. There is immense diversity from mountain cloud forests to tropical rainforests to dry zones. Sri Lanka is among the top biodiversity hotspots in the world. On our Sri Lanka Adventure and Nature Tour you can marvel at the impressive UNESCO World Heritage Sites, enjoy Ceylon tea at dizzy heights & discover exotic nature and wildlife! Look forward to a varied and exciting best-of-mix with a wealth of highlights that will make you remember your beautiful Sri Lankan holiday memories for a long time to come…

SPECIAL FAMILY PACKAGES ON REQUEST!
HIGHLIGHTS: STAR-CLASS HOTELS – A/C LIMOUSINE or MINI VAN TRANSPORTATION – ADJUSTABLE MEAL PLANS – EXPERIENCED GUIDE – WILDLIFE SAFARI – SCENIC TRAIN RIDE – UNESCO HERITAGE SITES – WHITE WATER RAFTING – RAINFOREST TREKKING – CYCLING – SURF/SNORKELING BEACHES – DOLPHIN/WHALE WATCHING…
FULLY CUSTOMIZABLE
for more details and all available options contact us:
Mobile/WhatsApp/Viber/Imo : 0094 773 866 315
b2b@sri-holidays.com
Tour Overview
14 Days Private Sri Lanka Tour
*Class Hotels
Train Ticket
Private Transportation
Experienced, Chauffeur Guide
Fully insured Tour Vehicle
Fully Customizable
from EURO 750.-
(per person sharing a double room – no minimum group size)

Sri Lanka Adventure and Nature Tour Itinerary
DAY 1 


Negombo
Arrival at the Bandaranayke International Airport and Transfer to your hotel in Negombo. Depending on your arrival time, you can embark on a Negombo City Tour and/or a boat safari on the Historic Dutch / Hamilton Canal. Flowing through the heart of the city, the Dutch Canal once acted as an important transportation and trading route. Today, the long canal still allows transportation, but mostly for visitors looking for a unique way to explore the city. Negombo Beach is also a great location to acclimatize after your flight to Sri Lanka.
Overnight Negombo
DAY 2 


Negombo – Dambulla – Sigiriya
After breakfast you will get to know the colorful city of Negombo. We start with a visit to the most important fish market in the country. A true experience! See how the fishermen let the freshly caught fish dry on the beach, walk through the bustle of the market where the strangest fish are sold. We also walk through the harbor, where you will see the fruit market, the Dutch fort and the church and visit a Buddhist temple.
Later we'll drive to Dambulla, where you will visit the famous rock temples. The five separate caves contain more than 150 Buddha statues of various sizes from different periods and the walls and ceilings are beautifully painted. In the afternoon you will arrive at your hotel in the Cultural Triangle, where you will spend the upcoming nights.
The Cultural Triangle is the perfect base to get to know this region better. The area has many historical & cultural attractions and beautiful wildlife parks.
Overnight Sigiriya
DAY 3


Sigiriya – Polonnaruwa – Sigiriya
Free in the morning, but you can also take an optional excursion to Polonnaruwa. You can go by mountain bike to the ruins of Polonnaruwa, a fun and active excursion. An exciting bike ride of about 10 kilometers through the region. A nice introduction to local daily life. Admire the bright green rice fields, visit local villages, meet the friendly people and see how you get a coconut from the tree.
The route is flat and you have plenty of time, so you certainly don't have to be in top condition to make this excursion, it is mainly about enjoying yourself. On arrival leave the bicycle(s) behind and explore Polonnaruwa on an extensive tour by car, past the remains of the palace and the famous reclining Buddha.
You can also choose to just cycle through the ancient city. The historic city of Polonnaruwa is full of ruins and landmarks from the 11th to 13th centuries. These were the heyday of Sri Lankan sculpture. In addition to the many ruins, the royal palace, the Gal Vihare complex, and the tomb of Alahana Pirivena are also of interest. 
In the afternoon we make an adventurous jeep safari in the Minneriya National Park. The park is known for the many hundreds of elephants that live there. You make a safari through this beautiful park by 4WD, where the chance that you see elephants drinking in the lake is almost guaranteed. Then back to the hotel.
Overnight Sigiriya
DAY 4


Sigiriya – Hiranduwa – Ritigale- Sigiriya
Today is a wonderful day to get to know the region better. Leave your hotel very early in the morning to drive to Hiriwaduna for a 2-hour local village experience, which will give you a good impression of the daily life in rural Sri Lanka. The tour starts with a great walk along a dike of a Wewa (man-made reservoir). Around the Wewa you will see many birds, butterflies and beautiful green surroundings. So early in the morning you can see the villagers going about their daily chores like fishing and washing clothes at the edge of the lake.
During our trekking we also cross the tributary with a local 'catamaran' to discover the various small farms. The farmer who helps us cross is often willing to show what his livelihood is, and a glass of coconut water or a piece of fresh mango will crown the hospitality. The last part of our journey is by bullock cart, driving through denser forests and paddy fields. There is a chance that you will see monkeys, many tropical birds and perhaps even an elephant. After this impressive tour you will be brought back to your hotel.
In the afternoon we continue our route to the Ritigala Nature Reserve with its ancient monastery, hidden in the jungle. The monastery consists largely of meditation platforms and corridors built in perfect harmony with the giant boulders. The monastery is rarely visited by tourists but it is beautiful and will certainly impress you.
Overnight Sigiriya
DAY 5


Sigiriya Rock Fortress – Matale – Kandy
Perched on a slab of rock that juts dramatically over the forests of central Sri Lanka, Sigiriya is as imposing a sight now as it must have been when it was first built by a fierce king in the fifth century A.D. Meaning "lion's rock," Sigiriya (designated a UNESCO World Heritage site in 1982) is accessed by way of passageways cut into the rock face between a monumental pair of lion paws. Make sure to see the exquisite wall paintings that have become some of the most prized objects in Sri Lanka's artistic heritage. A total of 21 surviving frescoes may depict apsaras, celestial singers and dancers.
The fortress was later swallowed by the forest, and only familiar to local villagers. Outsiders used knowledge of its past, preserved in Buddhist texts, to search for the ancient site. British historians rediscovered its astonishing buildings and frescoes in the 19th century.
On the way to Kandy, visit the Spice Garden in Matale. Since ancient trading days, Sri Lanka is world-renowned for its Quality Spices. In the 16th century Ceylon, as it was then known, was discovered by the Portuguese who soon began trading in cinnamon and other spices. The Dutch and British followed, bringing with them their own history and influences, forming a strong Western presence that created a history of food expressed with spices that can be tasted in the dishes today. Spices are an essential element of the cuisine of Sri Lanka and the Ayurvedic tradition and a visit to a garden that specializes in the cultivation of these substances and an excellent way to purposes of new uses for certain ingredients that perhaps thought they knew well. Find cinnamon, cloves, nutmeg, vanilla, cardamom, and black pepper, to name a few. Visitors can buy the products in their natural state or in the form of oils and potions that are used by Ayurvedic medicine.
Proceed to Kandy.
Kandy is Sri Lanka's second largest city after Colombo, brimming with a fascinating history, rich culture, spectacular beauty, and old-world charm. Lush forests, sprawling mountain ranges, the meandering Kandy Lake, known as the Sea of Milk, and an array of distinguished colonial buildings and magnificent Kandyan-inspired architecture complete this Medieval City. This beautiful, laidback capital is only 72 miles (115 kilometers) inland yet boasts exceptional cultural and historical attractions, set amidst forested hills. Known as a pilgrimage destination for the Temple of the Tooth Relic (a sacred tooth of the Buddha), a listed UNESCO World Heritage Site, Kandy is a sacred city, due to the importance and spiritual significance of this temple. It is also known for the vibrantly festive Kandy Esala Perahera, also known as the Festival of the Tooth, an important 10-day religious celebration each August. Lying at an altitude of 1 640 feet (500 meters) above sea level and surrounded by the Knuckles and Hunnasgiriya Mountain Ranges, the temperatures around Kandy are slightly cooler and conditions more pleasant than in the lowlands. An important and established Buddhist site, Kandy was formerly known as the city of Senkadagalapura. It served as the last capital of the Sinhalese kingdom before falling to the British in 1815.
Overnight Kandy
DAY 6


Royal Botanic Gardens – Hill Country – White Water Rafting – Nuwara Eliya
After breakfast visit the Royal Botanic Gardens, Kandy. Established in 1816, these gardens are located about 6.5km before Kandy on the side of the Colombo-Kandy Highway. Initially planted with Coffee and Cinnamon, it now includes beautiful Sri Lankan and overseas species. No vehicle is allowed entry to this 147-acre garden. It is bounded on three sides by a loop of the Mahaweli River. The Avenue of Royal Palms, Bamboo-fringed riverside drive, Bat drive, Spice garden, Orchard House, Cactus house, a Glasshouse of anthuriums, begonias, African Violets, and other species, and the giant Javan fig tree on the great lawn attract locals and visitors from overseas. It covers an area of 1600 sqm. Keep your eyes open for an oxen-driven lawn mower.
Afterward, embark on a picturesque drive through Sri Lanka's hill country. En route visit a tea factory and tea plantations.
On the way, we stop for white water rafting on the Kelani River. This river has some spectacular rapids and has been given level 3. This location is also known because the movie 'Bridge over the River Kwai' was filmed here. After about two hours of rafting, we drive towards Nuwara Eliya.
In the afternoon you will reach Nuwara Eliya (so-called Little England) with its colonial hotels, the racecourse, and golf courses. Nuwara Eliya or City of Light is the tea capital of Sri Lanka at an altitude of 1889 m and is the most visited hill station on the island. Nuwara Eliya was found by a group of British officers during the earlier part of the 19th century, who as the story goes, had gotten lost while elephant hunting. The British governor at the time, Sir Edward Barnes, was told about this little
town and subsequently decided to take residence there, soon creating a health resort, which soon became internationally renowned.
Nuwara Eliya is surrounded by a seemingly endless array of tea plantations populated by tea pickers who are almost exclusively Indian Tamils, who are distinct from the Ceylonese Tamils who live in the Northeast of the country.
Overnight Nuwara Eliya
DAY 7


Nuwara Eliya – Horton Plains – Scenic Train Ride to Ella
Early in the morning, the hotel will provide a simple picnic breakfast, we drive towards Horton Plains. A protected plateau where leopards were still hunted by the British in British colonial times. Nowadays these can only be spotted exceptionally, but there are 24 different mammal species and 87 different bird species living in the park. The view of 'Worlds End' is beautiful, in clear weather, the view extends to the coast. In Hortons Plain we make a beautiful 3-hour trekking to of course 'Worlds End' and the Bakers waterfall.
The train journey from Nuwara Eliya to Ella is the most beautiful train ride in Sri Lanka, if not in the world! Board the train and experience breathtaking views of lush green tea plantations, mountains, viaducts, valleys, and dense jungle. What's more, it's the perfect way to experience Sri Lankan life. Meet smiling locals on the train, wave to the running children along the tracks, and eat the spicy snacks sold by vendors who board at each stop. The route takes you through tea plantations, jungles, and mountains. As the journey goes on, you move into the lush green highlands, dotted with tea plantations, beautiful hilltop villages, and waterfalls. The train was brought to life in the mid-1800s when Sri Lanka was under British colonial rule. During this time, it was used as a train to transport tea from the plantations to Colombo, where it would then be exported internationally.
Ella is a small village located among the peaks of Sri Lanka's central highlands. This sleepy village is nestled in a valley peering straight through the Ella Gap to the plain nearly 1000m below and across to the coastline. Apart from the mesmerizing natural views, ELLA is surrounded by hilly countryside perfect for walks; through tea plantations, waterfalls, ancient temples, and artifacts. This hidden sanctuary with the perfect climate is probably one of the best-kept secrets of the country and is easily accessible from the comfort of your hotel in Ella.
Overnight Ella
DAY 8


Ella
After a hearty breakfast, we get ready to climb Little Adam's Peak. This mountain can also be climbed by less experienced hikers. In about 45 minutes you are at the top and you are rewarded with a beautiful view.
In addition, we walk to the Nine Arch Bridge. It is one of the most iconic bridges in Sri Lanka and one of the best examples of British railway construction when Ceylon was still a colony of the British Empire. In the afternoon you have the option to relax at the hotel or explore the area.
Overnight Ella
DAY 9


Ella – Yala National Park
On the way to Yala we make a stop at Ravana waterfall. This waterfall is about 25 m high and flows from an oval-shaped concave rock formation.
Yala National Park is well known for its biggest, extensive the area of 1,259 sq km, and for excellent wildlife preservation in Sri Lanka. Yala is one of the best parks in the world to observe and photograph leopards in the wild. With it considerable size, the terrain of the national park is varied from flat plains to rocky outcrops.
The vegetation ranges from open parkland to dense jungle. There are also abundance of water supply for animals and birds ranging from waterhole's, streams, small lakes to lagoons. The national park is divided into Yala West (also called Ruhuna) and Yala East.
Yala West or Ruhuna National Park is now well recognized for the best park in the world to observe and photograph leopards. There are about 35 leopards in the park which probably is the highest density than anywhere in the world. It is possible to take one day jeep-safari trip through the park although it takes you three days to see the entire park.
The park is usually closed relatively late (almost 7.00 pm) therefore the chance to come across one of the leopards is quite high.
It is possible to take full day jeep safaris or to split your day into morning and afternoon drives. The male leopards in Yala are very confident and are often seen walking the tracks during the day.
Overnight Tissa
DAY 10


Yala – Udawalawe National Park
The Elephant Transit Home in Udawalawe is a facility in Sri Lanka's Udawalawe National Park that was established in 1995 by the Sri Lanka Department of Wildlife Conservation. The primary goal is to rehabilitate orphaned elephant calves for ultimate release into the wild.
The afternoon is at leisure. You also have the opportunity to make a nice safari in the Udawalawe National Park (optional). This park is known for its large elephant population, there are approximately 400 elephants. The reserve has large open plains and a large water reservoir. It is easy to see a herd of elephants on a Jeep safari. In addition, water buffaloes, mongooses, and gray langurs (monkeys) live in the park. The lake is also home to swamp crocodiles, and water monitors lizards.
Overnight Tissa
DAY 11


Sinharaja Rainforest
Today we have the chance to get to know this beautiful and pristine rainforest on foot. The rainforest is known for its ecotourism and beauty. The forest is rich in a great diversity of plants and animals, and specific vegetation that we did not encounter on our journey. We spend the night in our bungalow which is located on the edge of the Sinharaja forest.
Overnight Sinharaja
DAY 12


Sinharaja – Mirissa Beach – Whale Watching – Unawatuna
Located on Sri Lanka's picturesque South Coast, Mirissa still offers the charm of an idyllic fishing village. Enjoy walks along uncrowded beaches, still untouched by mass tourism, and be fascinated by the famous stilt fishing men. Mirissa is more than beach life. Much more. Surrounded by rubber and coconut plantations, ancient temples and spice gardens, natural sanctuaries, and exotic wildlife, Mirissa offers something for everybody.
Surfing, snorkeling, scuba diving or just sunbathing in front of one of the beach pubs.
Mirissa is also an ideal destination for those who wish to catch a rare glimpse of those beautiful and gentle giants of the Ocean. Situated at the southern coast of Sri Lanka from beyond the MIRISSA coast lies the Indian Ocean its vast majesty right up to the Antarctic landmass. It comes as no surprise that these amazing marine mammals migrate through the vast and fertile stretch from December to April during the annual breeding season. Mirissa itself is a quiet and peaceful coastal town boasting unspoiled beaches.
Setting off from Mirissa there is up to 90% chance to come across Sperm whales and a pretty good chance of sighting the Blue whale as well. There are believed to be around 26 different species of whales traversing this region and including the well-loved dolphins.
Overnight Unawatuna
DAY 13


Unawatuna – Galle Fort – Unawatuna
In the morning you will be visiting the Galle Fort. A Unesco World Heritage Site, this historic city is easy to explore on foot, an endlessly exotic old trading port blessed with imposing Dutch-colonial buildings, ancient mosques and churches, grand mansions, and museums. Most travelers are utterly seduced by Galle's ambiance, and it's undoubtedly southern Sri Lanka's one unmissable sight.
Overnight Unawatuna
DAY 14


Unawatuna – Airport – or your next Destination in Sri Lanka
Depending on your travel plans, you can extend your stay at Unawatuna Beach from EURO 45 / night, continue with one of our other Sri Lanka Tour Packages, or be driven back to the airport.
END OF SRI LANKA ADVENTURE AND NATURE TOUR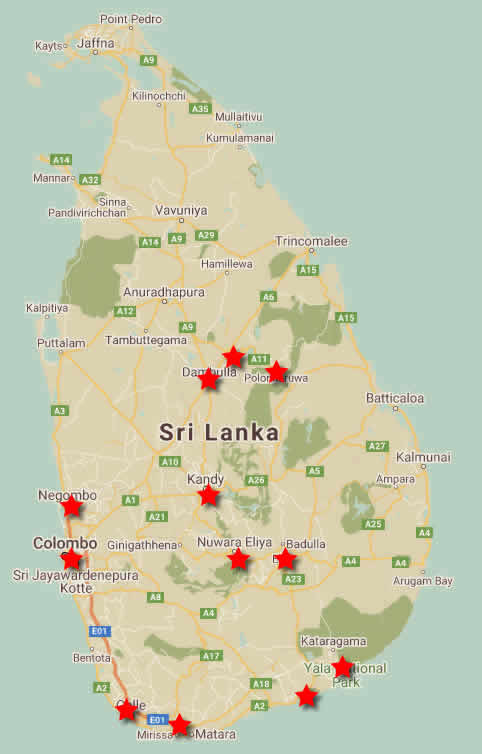 BOOK WITH CONFIDENCE!
We are physically based in Sri Lanka and our 24/7 customer hotline is always available to you. The straightforward Online Reservation System, friendly, multilingual staff and no hidden costs are only some of the benefits you experience when booking your vacation with lanka2book.
Feel free to contact us with any questions you might have.
    
Mobile/WhatsApp : 0094 773 866 315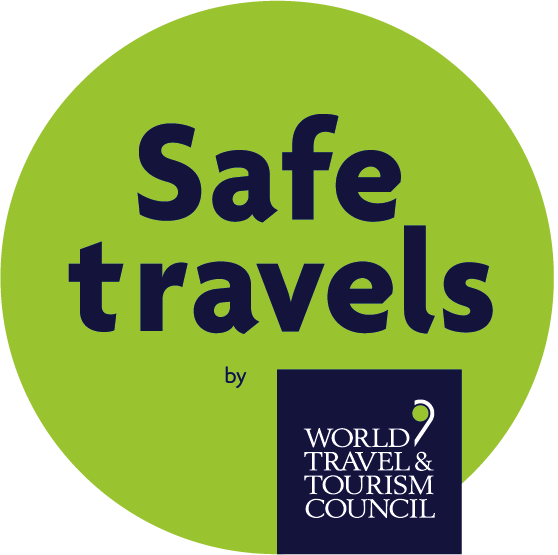 Book Sri Lanka Adventure and Nature Tour Package 14 Days
2 PAX from USD 880 pp
4 PAX from USD 780 pp
6 PAX from USD 750 pp
(per person sharing a double room – no minimum group size)
Mobile/WhatsApp : 0094 773 866 315
b2b@sri-holidays.com
Availability
This Sri Lanka Adventure and Nature Tour Package can be booked all year round
Tour Includes
14 Days Private Sri Lanka Tour
Accommodation at 3* Hotels
Upgrade to 4* Hotels EURO 300 p.p.
Mealplan B&B or HB
(add EURO 100 p.p.)
Train Tickets
Private transportation
Experienced, English-speaking chauffeur guide
Transport by fully insured a/c vehicle by Sri Lanka Insurance Corporation Ltd
Tour Excludes
Entry Fees
Anything not specified in the package inclusions
Meals other than specified
Items of personal nature
Tipping and porterage
our booking terms & conditions can be found here…
Please be advised that most hotels charge a compulsory supplement for Christmas Eve / New Year and on important local or school holidays. If your travel falls within one of these periods, we will inform you accordingly.
We are no automated booking engine! All enquiries and reservations are handled by a real person; a dedicated Sri Lanka specialist who will offer unbiased advice, guide you through the reservation process and assists you during your holiday (whenever needed) as well.