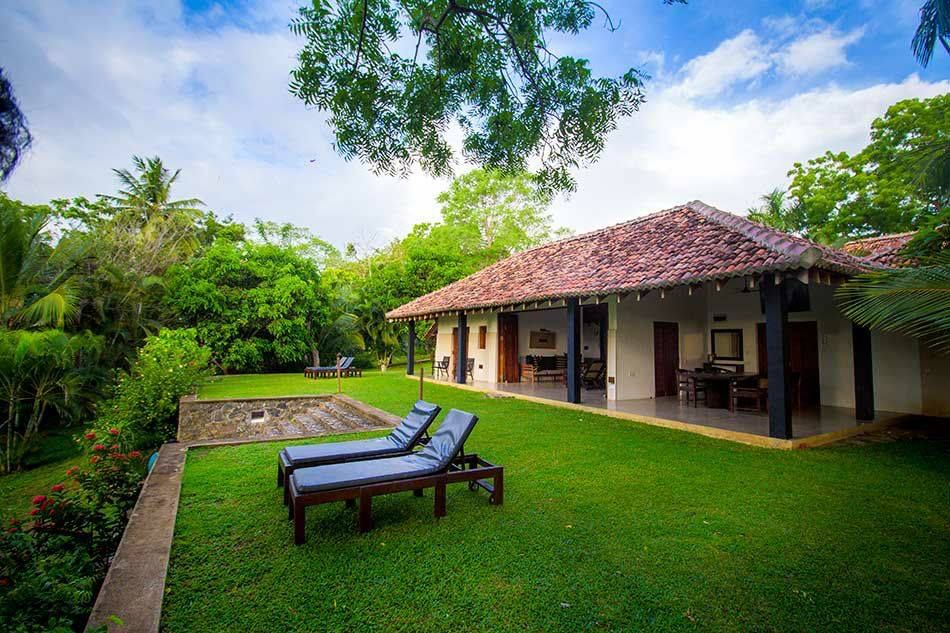 Boutique Villa Sri Lanka
The Ultimate Experience
Contemporary Boutique Villa – Gong Meditation Experiences – Sunset Beach
Based on designs by the late Geoffrey Bawa, this Boutique Villa in Tangalle has a distinctly Ceylonese feel. High ceilings and beautiful, simple woodwork lend a cool and relaxing air to all rooms.
The pretty gardens and the wide-open spaces give a sense of freedom and privacy for the guests. The focus is on architectural identity and aesthetic for the tropical environment.
The villa is fully air-conditioned with a total of 4 bedrooms, two of them overlooking the Indian Ocean. Very calm and quiet location in close proximity to the beach, swimming pool, restaurants and bars.

Together with guaranteed privacy, open-air rain showers, a spectacular infinity pool, and a custom-build studio for individual Gong Meditation Experiences, the villa has all (and more) that you can expect from a luxurious holiday retreat.
The nearby beach offers the most spectacular sunset views. A small bay with a sheltering reef catches the bigger waves and acts like a natural Jacuzzi. The soft sands of the beach makes it an ideal spot for a nice morning run.
3 & 6 NIGHTS PACKAGES AVAILABLE.
The ideal add-on for every Sri Lanka Tour!
for more details and all available options contact us:
Mobile/WhatsApp/Viber/Imo : 0094 773 866 315
b2b@sri-holidays.com
BOUTIQUE VILLA SRI LANKA – ALL YOU NEED TO KNOW
Overview
Contemporary Boutique Villa
Gong Meditation Experiences
Infinity Pool
Beach Location
ExclusiveTour Add-On
from US$ 75.- night/pp*
*rate includes daily gong meditation (90 minutes)
ACCOMMODATION
Fully airconditioned, free WiFi, tea and coffee, mini fridge, attached bath with hot water, lobby area, private entrance to each room, private balcony, daily room service, bath-, face- & beach towels, spacious rooms, ( two rooms pool view, two rooms with garden view, overlooking to the ocean)
1 x TPL room ( 1 king size bed + SGL bed) 2 x Twin bedrooms and a DBL bedroom)
Boutique Villa Sri Lanka – All you need to know
GEOFFREY BAWA
Geoffrey Bawa, Sri Lanka's most influential architect, was responsible for linking the ancient architecture of this island with that of the modern world. He explored modernism and its cultural implications and created a unique, recognizable style of design that had a lasting impact on architects across the world. Well versed in Modernist theory, Bawa was one of the original proponents of Tropical Modernism, a design movement in which sensitivity to local context combines with the form-making principles of modernism.
GONG MEDITATION
Every Gong Bath is a very personal experience, depending on where you are on your journey through life. Maybe you never meditated (but somehow you found your way here) or maybe you already practice meditation or mindfulness. Gong Meditation is one of the easiest and quickest ways to get into a deep meditative state.
The shifting frequencies and rhythms of the gong lead the brain effortlessly into theta & alpha brain waves, stimulate all cells in the body and promote states of deep calm, clarity & mindfulness. The sounds can be as quiet as a whisper or a roar of intense, primal power that can be felt traveling in and around the body.
90-minute private sessions at flexible times that suit you.
READ MORE…
Gong meditation is a unique type of sound practice that involves using therapeutic gong sounds and vibrations to bring about healing. This practice is also sometimes referred to as a "gong bath" because participants are "bathed" in meditation gong sound waves. The goal of "gong meditation" is usually therapeutic, whereas mindfulness meditation has many therapeutic benefits, but its deeper goal is awareness and non-judgmental appreciation of the present moment.
Sound therapy has long been used to manage a broad range of health conditions. The treatments are based on the understanding that all forms of matter – including our body's cells – vibrate at different frequencies. Factors such as stress, depression and disease cause cells and organs within our bodies to vibrate at non-optimal frequencies.
Gong meditation benefits
Gong sound therapy has been practiced for thousands of years. Today, enthusiasts believe that gong baths can help reduce stress and liberate emotional blockages. Scientific evidence suggests that certain forms of sound therapy prompt damaged human DNA strands to repair themselves. Some tones are thought to promote vitality and healing and also to enhance happiness. Many alternative healthcare clinics offer sound therapies such as gong meditation to help manage various ailments.
Other forms of sound therapy include tuning forks, Tibetan singing bowls, chanting and drumming therapy. Music therapy is arguably the most mainstream form of sound therapy, and many music therapists are board-certified. Music has been shown to relieve a number of problems, including pain, loneliness and depression. Music therapy is now frequently offered in clinical settings such as hospitals, clinics, and hospices.
TANGALLE
Among Sri Lanka's South Coast Beaches, all with white sandy shorelines and turquoise waters, Tangalle is still like a dream on another level. Since the beach is basically located at the end of the (coastal) road, it serves as the perfect retreat for relaxing away from the hustle and stress of daily life. The white sands, palm groves, and lovely waters, set in a tropical environment are the perfect beach getaway.
The beautiful white sand beach will give you the true vibes of a tropical paradise and goes on for kilometers at a stretch with bays and beaches on both the north and south sides.

The Tangalle Lagoon is a haven for a myriad of birdlife and marine life. Located towards the south of Tangalle, the lagoon provides a great day trip for those in the area. One of the best ways to explore the Tangalle Lagoon; especially at your own pace is by embarking on a kayaking or canoeing excursion along the gentle, emerald waters. As you paddle along the lagoon; keep an eye out for the various wildlife that calls the lagoon and the bordering mangroves; home. From birds to crocodiles, kayakers are in for an exciting safari! This off-the-beaten-path attraction in Tangalle is ideal for those looking to escape the crowds from the nearby more popular beach towns. Explore the mangroves, and remember to duck under low-hanging branches! 
EXCURSIONS FROM TANGALLE
YALA
Sri Lanka is one of the best places in Asia for seeing wildlife. The island's isolation from the mainland, the heavy rainfall of the two diagonally blowing monsoons, and the country's wide range of altitudes have given Sri Lanka a variation in climate and biodiversity normally found only across an entire continent.
The top draw is the Sri Lankan leopard, a sub-species endemic to the country; in certain areas of the park, the average leopard density is as high as one cat to every square kilometer. During the fruiting of the palu trees in June and July, sloth bears are often observed.
Other animals you might spot include sambar (a large deer), spotted deer, buffalo, wild pig, stripe-necked and ruddy mongooses, langur monkey, toque monkey, golden jackal and Indian palm civet.
The combination of freshwater, marine, scrub and woodland areas ensures a high diversity of birds. Indeed, the park hosts 220 different types, and serious twitchers have recorded 100 species in a single day.
ELEPHANT TRANSIT HOME – UDA WALAWE NATIONAL PARK
Supported by the Born Free Foundation (www.bornfree.org.uk), this complex is a halfway house for orphaned elephants. After rehabilitation, the elephants are released back into the wild, many into the Uda Walawe National Park. Although you can't get up close and personal with the elephants, seeing them at feeding time (from a viewing platform) is still a lot of fun. Elephants here are not normally chained at night (unlike at other elephant 'orphanages') in Sri Lanka. Over 100 elephants have been rehabilitated at the Elephant Transit Home and subsequently released into the wild. Around 40 or so juvenile pachyderms are usually here at any one time. There are decent information displays where you can learn all about elephants and their ancestors.

REKAWA TURTLE WATCH
The southern golden beaches of Rekawa are known to attract several endangered species of sea turtles; which include loggerhead, hawksbill, olive ridley, green and leatherback turtles. These five species make their way to the stretch of untouched beach in Rekawa to lay their eggs before heading back to the ocean.
The Rekawa Turtle Watch is a conservation project that aims at protecting the nesting sites, thereby ensuring the eggs hatch safely and the baby turtles can return home. Travelers can embark on a turtle-watching excursion in the evenings to catch a glimpse of turtles laying their eggs.

HIRIKETIYA SURF BEACH
Venture to the palm-fringed cove at Hiriketiya Surf Beach.
With a beach break and a reef to contend with, there's something for all levels of surfer in this quintessential coast town.
Two breaks; one beach – that's Hiriketiya Beach in a nutshell. Set in a stunning tropical cove it's possible to go and still find a surfable wave, this laid-back little town is swiftly turning into a mecca for surfers.
It's risen from obscurity to a popular pitstop on the Sri Lankan surf trail in the last couple of years. One of the reasons for the popularity is the variety of surf that's offered. As Hiriketiya Bay spreads along its 0.5-kilometre inlet, it goes from a heavy reef to a mellow beach break. There's something for a wide variety of surfers.
A sand-bottomed wave rolls into the surf rental shacks on the west side of the bay for novices. There are the peaks in the middle of the bay, which break over a deep rock reef and then allow for 50-meter rides towards the sand. And then there's the fast, walling left-hander that whips in on the east end of Hiri – leave that to the intermediates and experts.

MULKIRIGALA ROCK TEMPLE
The Mulkirigala Rock Temple is cradled on a rocky crag approximately 16 km from Tangalle. Shrouded within a green forest, the Buddist rock temple requires you to ascend 500 steps before you can admire the beauty from its summit and experience a tranquil, soothing atmosphere surrounded by wilderness. Visit during the morning or evening hours to avoid the heat and humidity of the day. With 5 terraced levels housing caves, the rock temple complex evokes a sense of peace as you discover its varying statues of Buddha. The temple premises consist of 7 smaller structures within the 5 terraced caves, namely the Lower Temple Compound, Siyambalamaluwa, Bomaluwa, the Royal Temple Compound, and the Upper Temple Compound. The caves are adorned with colorful murals and various figurines.
Once you reach the summit, passing the terraces, be amazed at the picturesque views of your surroundings! Within the premises, admire a vast collection of vibrant murals and sculptures depicting the scenes from the Buddha's life. The temple is one of the most significant and sacred places on the southern coast. Remember to dress modestly before visiting the temple, covering your shoulders and knees as a sign of respect for the holy temple.
VISIT KATARAGAMA
A sacred pilgrimage town Kataragama is a temple complex dedicated to Buddhist guardian deity "Kataragama deviyo" and Hindu War God Kathirkamam. It is one of the few religious sites in Sri Lanka that is venerated by Buddhists, Hindus, Muslims and the Vedda people. As such, the KATARAGAMA festival (middle of each year) is visited by the rich, poor, and all religions alike.